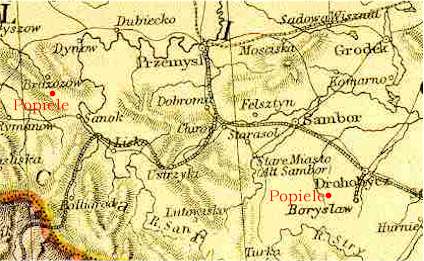 n 1431 the Popiels sold their village Podlesie near Sanok and established new village Popiele on the lands near Drohobycz, granted to them by king Wladyslaw Jagiello in 1414.
New estates vere rich in salt in the area of another village established by the Popiels, called Kotow (today Bania Kotowska). The salt was always king's property in former Poland and Kotow was taken from the Popiels by king Zygmunt the Old and it was included into private estate of queen Bona. The successor of king Zygmunt the Old, his son Zygmunt August returned Kotow to Popiels and confirmed their privileges granted by king Jagiello. The king kept, however, the saltworks, together with some forest necessary for supporting the saltworks.
(sp)
---
Jan Popiel
&
Slawomir Popiel

This site was created on June 15, 1998 and updated on May 13, 2007
Copyright © 1998. Jan Popiel & Slawomir Popiel.